Increasingly, state legislation and organizational policy necessitates retraining on an annual or biennial cadence. Although this cannot be immediately automated through Foundry, by organizing your learners with categories and labels from the beginning, you can simplify your retraining efforts such that they will only need your attention once a year.
In this blog, we will walk through how we recommend setting up 2 types of assignments :
A Quick Assignment for all your existing learners who need to complete an annual training.
An Automated Assignment for all your new learners to be added to upon hire or matriculation.
Important Note: If you are starting this process for the first time, please ensure that you separate your existing learners from those who you hope to be added to your new learner assignment over the course of the year. In other words, don't put everyone into a "2020" label if you plan on using that for your automation. Instead, you can use a label such as, "Pre-2020."
1. Creating the Categories
To do this, you will want to start with a category which corresponds to your learner's needed training cycle. For employees, this may be "First Training Year" or "Hire Year." For students, this will be "Matriculation Year." The labels for this category will be the cohorts of learners who will need to be retrained on the same cycle.
For example: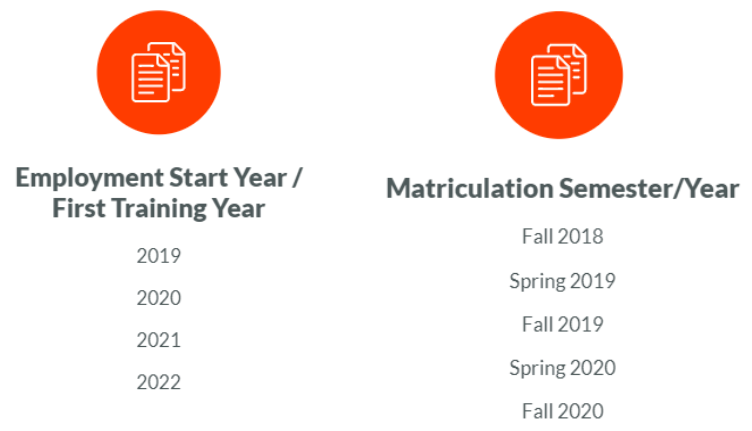 As learners are added, you will need to include them in the correct label for their new training cycle. In general, this will be the same for all users you are adding to Foundry in a particular upload, so it should be easy to add the same value to all users.
2. Creating the Assignments
Now that you have these categories and labels set up, you will need to create your assignments. You should plan on doing this on an annual basis whenever is convenient for your office. You will need two sets of assignments each time: cyclical retraining and new learner automated training.
Pro tip: For Workplace Conduct learners, dedicate a particular time of year that you have your employees complete annual trainings, such as March every year. Not only will this make it easier to manage implementations, but it will also set the expectation for your learners and will result in higher completion rates. 
Cyclical Retraining
This assignment will be for all of your existing learners who are eligible to retrain and need to take an annual (or biennial) course. For these individuals, you will create a "Quick Assignment." When you select your learners, you will be able to use your labels to select the correct cohorts and assign them trainings.
Follow the instructions to create a quick assignment
When you get to the learner selection step

Select the Labels associated with your group of learners who need to be retrained using the filters along the left
Click the box next to "First Name" to select all the learners who have the selected labels

Click Save and complete the rest of the assignment options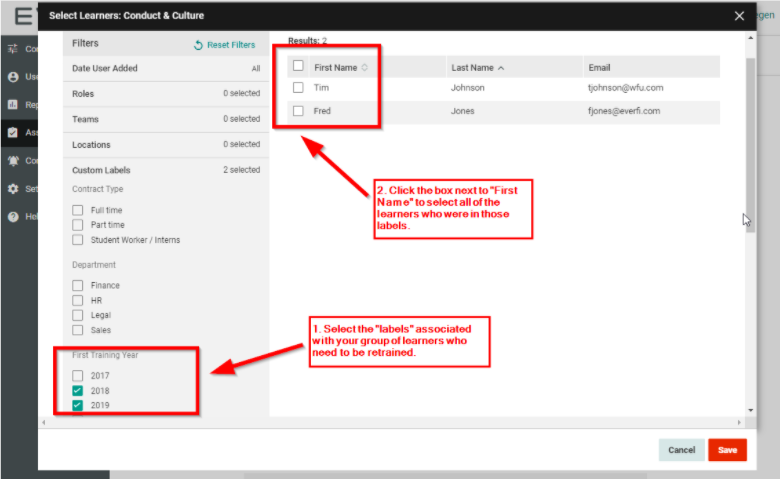 New Learner Automated Trainings
Once you have launched your cyclical trainings, you can create your automation to collect all new hires over the course of the year. To isolate these individuals, when choosing your "auto assign criteria," you will use the label associated with this new cohort.
Follow the instructions to create an automated assignment
When you get to the learner selection criteria step

Select the label that you will be applying to learners as you add them over the course of the year
Select any other filters that Foundry should use to route learners to the correct training
Check your work. Does the summary on the right side of the module describe the learners you want to receive this assignment?

Click save and configure the rest of the assignment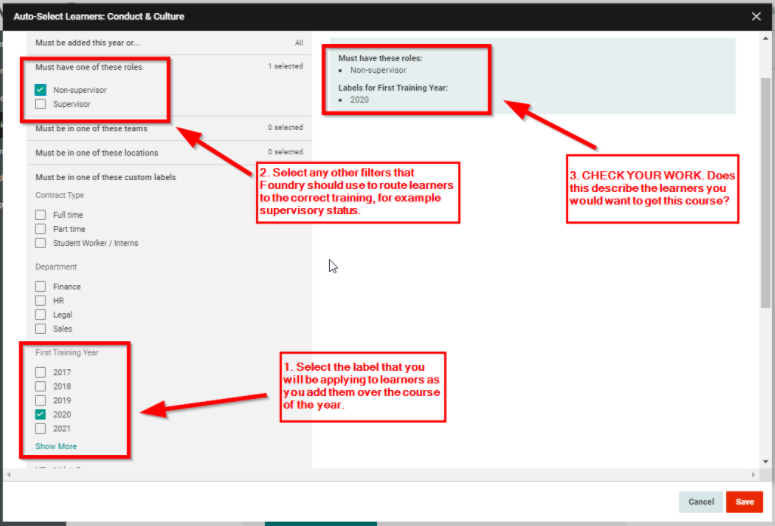 Summary
While these two assignments will cover the majority of training plans for Foundry administrators, there may be instances that require a one-off assignment or additional trainings per department, student group, or segment of learner. Either way, having clear and consistent categories and labels is the key to success on Foundry.
---