Whether you are just starting to explore the process to migrate to Foundry or you are already on your way and need some additional guidance, this Foundry Migration Resource page will provide you everything you need.
Below you will find information about the platform, the migration webinar schedule and recordings, administrator help articles, and tools to successfully plan and implement your courses.
Don't know what Foundry is? Take a look at our Foundry Overview.  If there's something you need but can't find, you can reach out to your Account Manager or send an email to customereducation@everfi.com.
Have You Already Used Foundry in the Past?
Look no further for second year implementation guidance and account tips and tricks on our Foundry 201 Implementation Guide.
---
Platform Migration Process
In an effort to have all of EVERFI's customers on the new learning and management portal in 2020, we are working with organizations and institutions on a timeline to ensure a smooth and successful transition. Each month beginning in April, we will be initiate a new cohort to kick off the migration process which is a series of webinars hosted by our Implementation Team. This process takes approximately 4-6 weeks, depending on the products you have licensed.
Following each webinar, the recording will be sent out and registrants will be directed to a next steps checklist to accomplish before the next webinar. These checklists, the relevant resources, and webinar recordings can be found below.
Migration Milestones
Prepare Your Launch Team
Before we embark on the Foundry Migration process, we want to make sure we have the right people from your organization to attend these webinars.
If there is more than one implementer on your team, and especially if there are multiple departments using Foundry at your organization, assigning teams and roles is a best practice to be sure the work is delegated and the data integrity of your account is maintained.
We suggest having a single person be the main point of contact to keep Foundry maintained particularly around user and assignment management. Those are areas where there may be overlap across teams. The main roles we suggest are:
Executive Lead – the strategic decision maker
Project Lead – creates the training plan
Course Implementer – sets up the account and courses, creates and tracks assignments, reviews data reports
IT Contact – sets up and maintains the technical integration and infrastructure
The EVERFI Welcome Packet provides a thorough summary of how we work with organizations to get started and is a great resource for anyone not familiar.
---
Webinar Recordings and Resources
Getting Started and Migration Kick Off
The goal of this meeting is to review the process and timeline for you to migrate to Foundry. Customers will have the opportunity to learn more about the platform as well as ask questions regarding the process.
What Is Covered:
The Foundry migration process, in detail
Create a timeline to launch courses and a training plan
Review decisions required to successfully configure your Foundry account
Kick Off Webinar Review:
Next Steps Checklist:
After the webinar, review the resources below to learn more. We strongly recommend taking these next steps to best set yourself up for a successful migration.
Custom Configuration Options:

Student Courses

  |

Employee Courses

IT / Infrastructure Preparation
Additional Helpful Resources
Best practices when using categories and labels
admin training
Platform Training
The administrator platform training is when anyone who will be implementing or tracking data for courses will learn to navigate Foundry. If your organization uses integrations, it may be helpful to have someone from the IT team join this call to understand where some data and functions live that are necessary for a proper integration set up.
Customers using SCORM (LMS Integration)
Not all the parts of this training apply to you, but there are some functions you will need to know in Foundry. Feel free to view the entire webinar, but pay attention to the following chapters:
8 – Managing Users: Adding a Single User
10 – Configuring Your Course
19 – Reports Overview
What Is Covered:
How to log in to Foundry
Account configuration
User management
Customization options
Assignment creation
Technical support options
Platform Training Review: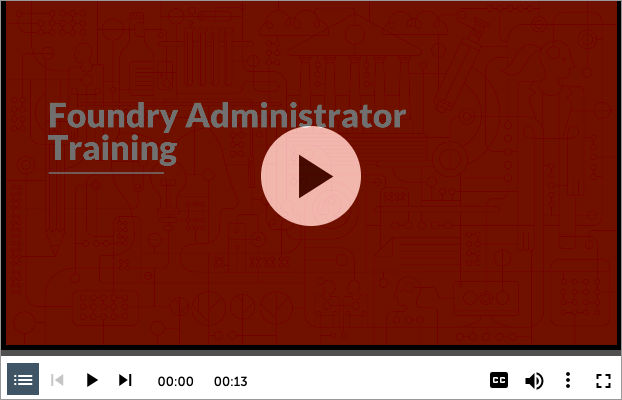 Next Steps Checklist:
Now that you know how to navigate Foundry, it is finally time to create your account! In order for us to do that, one person from your organization needs to complete this survey. Review the list of questions to collaborate with any colleagues and gather any missing information you need.
Once you receive your Foundry account information, you now have access to begin setting everything up with what you just learned. But in case you need to review anything, here are some helpful articles.
Integrations Kick Off
Integrations Kick Off
If your organization uses any technical integrations with Foundry, then an IT Contact must attend this webinar in addition to an administrator who will be implementing training. If you're unsure if you have integrations contracted, reach out to your Account Manager.
What Is Covered:
Foundry integration options
Set up and testing documentation
Tips and Tricks
Integrations Kick Off Review:
Next Steps Checklist:
checkin
Pre-Launch Check-In
Congratulations – you are now officially done with the Foundry Migration Webinar Series! At this point, you should have all the knowledge and tools you need to implement on EVERFI's newest learning system. Of course, we understand this is a brand new process for your organization, so we are here to offer a session to answer any final questions before you launch any assignments.
Next Steps Checklist:
Complete the Foundry Account Creation Survey if no one from your organization has done it yet. This survey is only intended for organizations participating in the group migration process. Here are the survey questions to review and gather answers ahead of time.
Browse (and bookmark) the Foundry Admin Help Site
If you have integrations, run a few tests to ensure it is working as expected
Create your communications strategy and mark due dates for appropriate follow-up for mandates or incentives
Download your data from the legacy EVERFI platform

To eliminate confusion for learners, we will be deactivating legacy platforms at the beginning of the month after you began the webinar series.
course launch
Course Launch
As this is the last milestone of the Foundry Migration Process, we strongly recommend creating a test assignment as a pilot to a smaller group before launching to the larger population. Whether it is to some other faculty/department members or a group of student leaders, it is best practice to go through this process to identify any potential speed bumps in the administrative process and to better understand the learner experience.
If any learners run into technical issues post-course launch, you can direct them to support.everfi.com to work directly with one of our Customer Solutions Representatives. Even though this information can be found in the invitation and reminders emails and in the learner dashboard, we recommend highlighting this to learners in all your communications.
---