---
This feature not available to all customers. Please contact your Account Manager if you are interested in using Alternative Login.
If you have learners who do not have an email address they can use to access their required training on Foundry, we now offer an alternative login process. While we do still recommend having an email on file so learners can request a new password and receive invitations, reminders and other updates, this process allows administrators to create a username and password for those without email access.
Only learners can use this alternative login method with a username. Administrators are required to have an email address in Foundry.
This can be most useful for certain industries that do not assign out company emails, such as retail and manufacturing, volunteers, or classroom teachers. If you do not have this feature in your Foundry account, please reach out to your Account Manager to discuss if this is a fit for your organization.
Add a Single Learner

Go to Users > Manage Users and click on "Add New Users" and select "Add New User."
In the menu, check the boxes for the type of user you are adding. This is a multi-select option. Click "Next."
Enter the First and Last Names field.
If the user has an email address, enter that in the correct field.
If the user does not have an email address, select "Use Username as Login" for the Login Option. Enter a Username that the learner can easily remember and create a temporary password. The learner will be required to change the password when they login for the first time.
Complete the rest of the form and click "Create User" when you are done.
A confirmation window will appear with the option to copy the temporary password you just created to send to the learner. Be sure to also send along the Login URL to your learner as well.
To find the Login URL, go to Users > Manage Users and click into the specific learner's User Profile. You can also find this in the address bar of your browser.

Add Multiple Learners
If you want to batch upload users, you will need to separate out learners with email addresses from learners without email addresses who will use the alternative login method. Another consideration is how the temporary passwords will be sent to all new learners added.
Go to Users > Manage Users and click on "Add New Users" and select "Upload New Users." Select your learner population.
To prepare your user list, follow the steps:

Download the User List Template and select the appropriate template.
Download the Legend to easily reference the fields you need to fill out the template.
Fill in your User List Template with your organization's data and save as a .CSV. As you can see in the example below, Email (Column E) is not required while Username and Password are (Columns C and D).If you have a large number of learners being added this way, it is recommended to use the same temporary password for everyone to easily communicate it out in tandem with the Login URL. These temporary passwords expire after 30 days. New learners will be required to reset their passwords the first time they login.

Click "Next" and upload your file. Proceed to the next page to complete the upload.
Go to Users > User Uploads to confirm everyone was correctly imported and review any rejected rows.
Learner Experience to Log In
The standard login process for learners is automated allowing them to receive assignment invitations when they begin and reminders on a cadence determined by the administrator. By using this alternative login option, the process becomes more manual for administrators who now need to communicate the organization's login page and unique login credentials to learners through a secure method.
Once learners navigate to the Foundry login page they can enter their username and temporary password provided by the administrator. A menu will appear immediately to complete their user profile and set their new password. As you can see, the email address is optional. If the learner chooses to enter one, they will receive future communications from Foundry, such as course invitations, reminders, and password resets.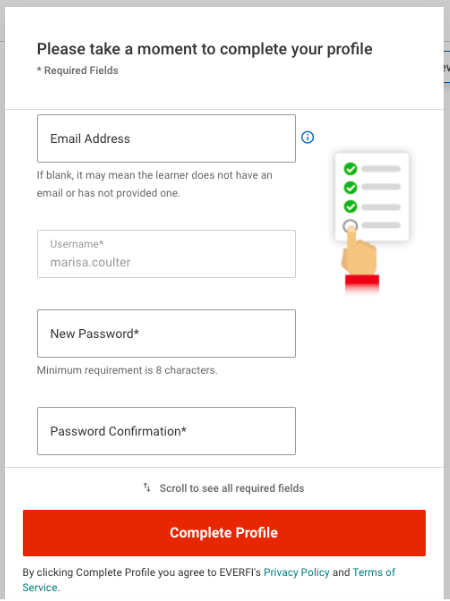 How to Find Your Login URL
There are two places to find your organization's unique login page URL for Foundry.
Go to Users > Manage Users and click into a specific learner's User Profile to find the Login URL.

In your web browser, look at the web address bar to see your organization's page. The domain will be https://admin.fifoundry.net/[your_organization]/sign_in.

Resetting Passwords for Learners
Send your organization's unique Login URL which is where the learner will input their username and temporary password. (Previous section.)
Click "Temporary Password" to generate a one-time temporary password that expires in 1 hour. Copy and share with the learner along with the Login URL.

---
This feature is only available on Foundry.
---