---
December 2020
Reports Dashboard Redesign
The Foundry Reports page has a sleek new look! Not only does it have updated visuals to align with the EVERFI brand, but it also has a new card component that is scalable across screen sizes – one of the many design improvements the team has made in the latter half of 2020 (more to come on that).
We are paying more attention to this page because it is the first thing administrators land on when they log into Foundry. The ultimate goal is to create a useful dashboard that directs administrators to take action in various aspects of their account.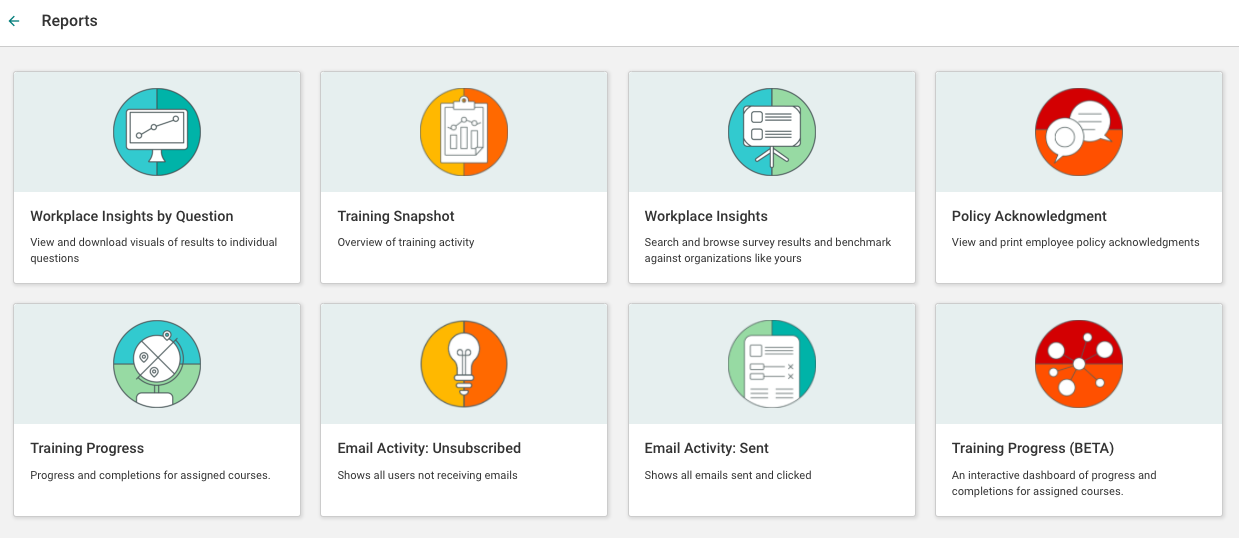 Training Progress Beta Now Has Custom Label Filters
The new Training Progress Report (Beta) now has the option to filter progress data by custom categories and labels. This is a big enhancement to bring the platform closer to feature parity from the old report which we will be sunsetting in the next month.
In the section where administrators could segment data by Location there are now additional filters and a new name: Segment Analysis. This filter will apply to the Progress Status, Segment Analysis, and Progress Detail sections.
The Segment Analysis options are:
Additionally, there is another level of filtering with the drop-down option called Segment By which provides the same options as above.
For example, an administrator first selects Location for the Segment Analysis which will reorganize the data by Location set in the account. Then, the administrator can pick Category Name for the Segment By option and that will break down the data further into the custom categories within each Location.
AlcoholEdu for College Drinker Category Report Redesign
In the latest report to get a new facelift, the Drinker Category Report not only looks more sleek and matches the updated Training Progress Report (Beta), but it also has added functionality to filter and compare by date.
In addition to selecting the course along the right side, administrators can also indicate the Date Range and Date Segmentation. The data charts will adjust to any changes in these filters.
Date Range

is a slider that allows administrators to set specific dates as the parameters for the data displayed. This is particularly useful if an administrator wants to only see data for a specific semester, academic year, or even all time.



Date Segmentation

is a drop-down menu with the options: None, Year, Quarter, Month. When an option is selected, the charts will break down the data within the

Date Range

indicated for a side-by-side comparison.





For example, if the

Date Range

is 9/1/2019 to 5/1/2020 and the

Date Segmentation

is Year, then the charts will break down the data into:

2019: responses collected 9/1/19 to 12/31/19

2020: responses collected 1/1/20 to 5/1/20
The charts display a percentage by default and the number of responses when a section is hovered over. To preserve anonymity, questions with fewer than 20 responses will still be hidden. The way to download this data has not changed. See Drinker Category Report for more information.
Legacy Training Progress Report
In the now-older Training Progress Report, the Time in Platform metric is now removed from the Foundry dashboard as well as the report download. This is in an effort to reduce confusion for administrators since there was conflicting data across the platform.
Completion Certificates Backfilled to Use Public Names
Earlier in November, we adjusted learner completion certificates to reflect the public name of the course instead of the internal EVERFI name. This update applied only to new and future assignments. In this release, we have now applied the public names of courses to all previously created certificates. 
---
Training Progress (Beta) Enhancements
Since we initially released this report a few weeks ago, the Data Platform team has already made significant improvements based on feedback from administrators. As this will be the focus of the team, we encourage you all to use this as the primary report to track training progress.
SCORM progress records are now included in the dashboard

Additional top-level filters that adjust data in all charts

Participation Status (Assigned, Closed, SCORM)

SCORM

Missing Policies

Past Due




Charts layout is updated based on usage and how administrators typically segment data

Assignments progress chart is moved higher on the page

Teams chart is removed

Segmentation chart is added (currently only Location works)




The .CSV Download will match the legacy Training Progress Report in functionality and in data (that means

categories and labels

!)




UX and design alignment to match the rest of Foundry
SAML Identity Provider  Location Validations
When the automatic registration via SSO feature is enabled, users are created with a default location. If an administrator attempts to delete that default location, then Foundry will block that attempt. This is to prevent users from being created without that required information . Similarly, changing a location name is supported with that feature turned on.
Multiple Encryption Certifications in SSO
As customers are going through the process to rotate their SAML Certificates, we now simplified the process by having Foundry support multiple certificates. Previously, Foundry could only accept a single certificate. This would require coordination for customer admins and IT contacts to accomplish all the steps at the same time to avoid service interruption.
With this enhancement, Foundry can support both its older and newest certificates allowing customers more flexibility and uninterrupted service. This will also make the certificate rotation process easier for EVERFI's customers that use InCommon Federation.
See the Certificate Rotation Process and instructions for InCommon Customers.
Data Exports – Pivoted Format
For customers who have the Data Exports (Bulk Data Download) feature turned on, the file download now supports a pivoted table format. This will make it easier for administrators to see each user's responses and digest the evaluation data particularly for multi-select responses. Previously, the information would display each combination of responses separately per learner. With this enhancement, all of a learner's responses will appear in one row. At this time, this is only available for Survey Response Data.
New Dashboard: Training Progress Report (Beta)
Over the past few weeks, we had been seeing a heavy volume of inbound concerns with the performance of the Training Progress Report with customers experiencing incredibly slow load times of their data. To ease concerns and frustrations, we built a brand new dashboard that can be seen as Training Progress (Beta) in your administrative portal. The old report will remain available to use.
This new interactive dashboard eliminates the need of the list of filters to narrow down the data. Instead administrators can click within each chart to then filter the data in the other areas. The focus is also on assignments and training periods which is how administrators typically want to view progress information.
For more information, see Training Progress (Beta).
Completion Certificates Course Names Align with Platform
When a course is completed, learners will be able to access their completion certificate via the Learner Dashboard. These certificates will now display the same name as appears on Foundry for both learners and administrators.
Bulk Update Temporary Passwords for Alternative Login
For accounts that use the alternative login method for Foundry, administrators can now use the bulk upload to update process to set multiple users temporary passwords. This can also be done via the external API. When a password is updated this way, the user will need to change their password the next time they log in.
Assignment Dates Clarified
The form to create assignments has updated language to clarify exactly what the dates means and up until when it can be edited. These changes can be seen in the "Scheduling" section.
Additionally, administrators can now edit the Start, Due, and Archive dates up until each of those respective dates. For example, the Archive Date can be adjusted any time before the set Archive Date.
The following articles have been updated to reflect these new changes:
New Process for Adding Policies
The option to add new policies via the left navigation menu is removed and moving forward the only way to add new policies is to go to the Content Library and go to the specific course configuration menu. Under Content in the left navigation, the Resources and Policies pages will still exist and allow you to see an overview of all the policies in the account. The "New Policy" button in the upper right corner will be removed.
This will ensure policies are properly configured for each course. In some of the newly released courses, the title on a configurable page must be populated for the page and the custom policy(ies) to appear for learners.
Policies can still be added to multiple courses at once with this new workflow. See Custom Policies for more information.
Location ID Required for API
Users uploaded via the API Integration will now require a Location ID. This aligns with Foundry's standard upload process and will eliminate errors related to users who are assigned location-enabled content. Any API requests that do not set a Location ID will be rejected and receive a 422 response and error message.
SSO Certificate Rotation
Foundry's current x.509 certificate for SAML single sign-on expires on January 7, 2021 and its replacement certificate is now available for customers. From now until January both versions of the certificate will be supported and available, but customers can only have one in use at a time. See EVERFI X.509 Certification Rotation for more information and specific next steps and customers can follow. We will be sending out specific communications in the upcoming months to customers impacted by this update.
Unassign Learners from Archived Assignments
There are times when a learner accidentally gets included in an assignment, but administrators do not realize it until after it is archived or deactivated. This release now allows administrators to unassign learners from any incomplete assignment regardless of its status. By unassigning, the learning activities will be removed from the Learner Dashboard since they are no longer relevant to the user.
All completed assignments will remain on the Learner Dashboard, again regardless of the status. This is so learners can access their completion certificates and review the content if needed.
SCORM Dispatch User Download
Customers who use the LMS Integration can now access a list of their learners via Foundry if they want to compare to their LMS/HRIS. On the Manage Users page, administrators can click "Download" to see first name, last name, and SSO ID which is their unique identifier (as opposed to email).
Session Timeout Notification
In the previous release, we mentioned the 2 different timers in Foundry: platform and in-course. This week, we corrected the behavior of the session timeout notification to be consistent with when it appears and the timers' behaviors.
After 30 minutes of inactivity, a notification will appear for the user notifying their session has expired. The platform timer stops when this notification appears regardless if the user clicks "OK." The user is brought to their organization's login page.

If a learner is in progress of a course viewing a video and moves off the window, then the platform timer will continue counting until the video is done playing. At that point, the 30 minutes of inactivity begins being counted towards the session expiring.
Continued Accessibility Improvements
Survey introduction texts have updated spacing to meet WCAG 2.1 Level AA guidelines. Additionally, learners taking evaluations on iPads with VoiceOver can focus on and select the text input area for open text fields.
Platform Timer vs. Time Spent in Course
In Foundry, there are two ways to calculate how long a user is active: the platform timer and in-course timer. Take a look at our Training Progress Report for more details.
The platform timer is now enhanced to pause when the browser tab is not in focus. This operates separately from the in-course timer which calculates how long a user is in a specific course to meet seat time compliance requirements. To distinguish these timers, the Training Progress Report has 2 separate columns with additional helper text to explain the differences.
The goal of these updates is to provide more accurate data and clarity around how much time your learners spend on Foundry.
Learner Access to Completed Courses
On the Learner Dashboard, the Completed tab displays all previously completed courses on Foundry regardless of the assignment status. So even courses that may have been deactivated or archived will appear. This is so learners can always go back to review any old course materials or access their course completion certificates.
Administrators Can Update Bounced Emails
When Foundry sends an email to an invalid email address and receives a bounce, the system will flag that user in a few areas. This can occur if there was a typo in the uploaded email address or if the email inbox was not yet set up at the time of the send. Now, administrators can edit a user's profile to correct or confirm the email which will remove it from the Bounced User List and be able to receive Foundry emails again.

See Remove a User from the Bounced Email List for more information.
Content Library Course Card Usability Improvements
In the Content Library, the content cards are redesigned to provide quicker access to what you need. There is now a direct link to the course configurations menu in the bottom right of the card via the "Configure" button. Lastly, the rest of the card is now clickable which will bring you to the Content Details page.
The images below outline in red the areas that are now clickable.
Learner Dashboard Clean-Up: Hide Deactivated Assignments
On the "Completed Tab" of the Learner Dashboard, there is a checkbox called "Include Deactivated Assignments" in the top right corner. It is de-selected by default. This way, the learner can easily see their recently completed courses to review instead of the older, deactivated assignments.
Increase Part 2 Follow-Up Survey Usage
In an effort to increase post-course surveys for learning activities that have them, we enhanced the helper text an administrator sees when both Part 1 and Part 2 of a course is included in the same assignment. The text is bolder and highlighter in error styling to draw more attention so the admin can correct the learning activities before starting the assignment. More instructions to properly Assign Part 2 is linked out in the platform
Engage Side Navigation is More Intuitive
The Engage portals are updated to make the side navigation more intuitive and acknowledge Engage's potential for wider use across networks, not just FinEd.
"Event Tracking" is now "Manage Events"

"FinEd Content" is now "Workshop Topics"
Disable Assignment Invitations
In the same way that administrators can turn off assignment reminders, assignment invitations can now be turned off. There is now a checkbox called "Do Not Send Invitations" added to the Assignment Creation workflow for both Quick and Automated Assignments. This will be unselected by default. If an admin selects this, the checkbox to disable reminders will also be triggered to be turned on. The administrator can override this automation if they want reminder emails from Foundry to be used.
A few details:
For Quick Assignments, administrators can edit this field up until it the Start Date (status = scheduled)

For Automated Assignments, administrators can edit this field up until the Automation Stop or Closed Dates (status = scheduled, started)

If the invitations are turned off for an in-progress Auto Assignment, it will stop new invitations from being enqueued and sent, but will NOT impact any messages that were previously enqueued or sent.
Accessibility Review Improvements: Help Modal
For learners and administrators, the Help modal is now appropriately tagged for users to use a keyboard to navigate. This is another update to Foundry as we are auditing the platform to improve accessibility.
SSO: Auto-Picking the Identity Provider
For customers setting up SSO, we are improving the workflow for technical administrators by automatically selecting the current certificate. Previously, admins were being prompted to select which EVERFI SAML certificate to use. This will make the configuration a little less daunting and reduce room for error.
In the unlikely event that an older EVERFI certificate is needed, the administrator can add the identity provider with the newest certificate and then edit the identity provider and change the certificate.
API Calls with Teams Functionality
For organizations using Teams and API, technical administrators can now configure their integration to retrieve, add, and update Teams in the external API. This would require some lift to update their API integrations. Full details of this update and instructions can be found here: Teams API.
Assignment Processing Indicator
There is now an indicator on Manual Assignment cards to inform administrators that the assignment is still processing to clean up confusion around chart numbers while the job is running in the background.
Last Sign-In Date
On individual User Profile pages, there is now a field called "Last Sign-In" which administrators can now view. Learners can also view this information on the "My Profile" page.


Location Validation for API
Upon adding or updating a user with the API Integration on Foundry, if an integrator provides an invalid location ID, then Foundry will reject the request and respond with a 404 error code (not found) and a descriptive error message. Previously, in some cases an invalid location would be accepted which allowed bad data to be created.
Additionally, the label called "Location ID" has been updated to be "External Location ID" to distinguish that field from the backend location of the organization. If a customer has a user import template with the old label in the column header, that will still be accepted. Only the label has changed; the data is not affected.
Financial Education Learner Dashboard Redesign
The Learner Dashboard for EVERFI's Financial Education programs sports a new look with a tabbed design, increased display of customizable options, and a cleaner look making it easier for learners to navigate their dashboard. Below are some of the specific updates.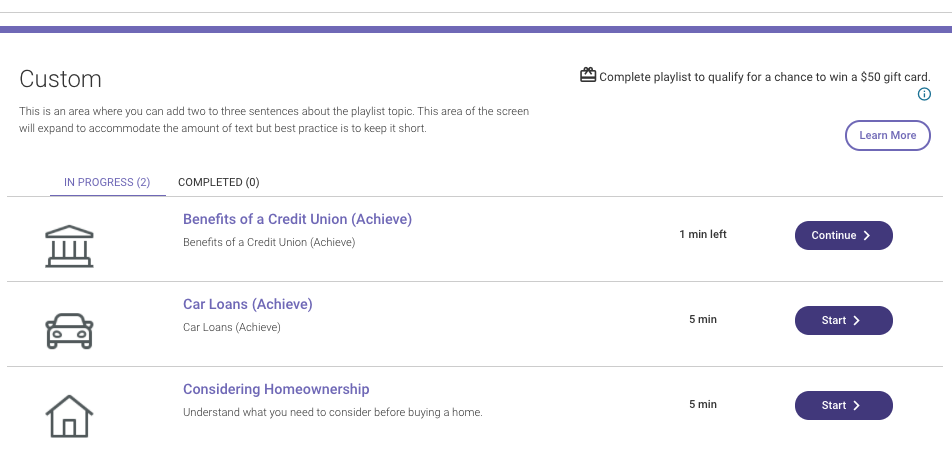 Border under header is a thicker color band that is customizable

Playlists are removed and replaced by a tabular structure separates modules into In Progress or Complete

Makes it easier for learners to see what new content they can go through or review

Incentive Area now has an improved design for mobile responsiveness and better visibility of custom images

Custom favicons can be uploaded
Timeout Experience is Now Accessible
We added a new modal that will warn users when they are nearing a page timeout with a 30 second window to take action. If the user clicks the "Continue" call-to-action, then they can continue taking their course. Otherwise, they will be timed out and brought to the login page.
Previously, the user would get no warning until afterwards when they try to interact with something on the page. The new pattern should provide a more positive user experience and complies with WCAG 2.0 AA standards we strive for with all of our courses and platforms.
IT Allowlist Updated
We consolidated the number of URLs on our allowlist when setting up Foundry and reformatted the article based on product/audience. This should improve time to implement and value for new customers.
Additionally, we updated the knowledge base and websites to remove the term "whitelisting" and replaced it with "allowlisting" to be more inclusive and intentional with our language.
Impact Reports Download
Foundry now has the ability to directly access any reports and files about an organization's data.  This eliminates the need for EVERFI to individually send Impact Reports and other documents containing PII over email and provides a single place for administrators to access their EVERFI data. The Impact Reports section will only appear once there is a file to be downloaded.
Preview a Course
Administrators can now preview a course after they add custom configurations to see it how a learner would. This feature is not available for all courses yet and will be added on a rolling basis. Take a look at the details here: Preview a Course
Navigation Changes
The Content section in the left-navigation for administrators is moved to the top of the menu to reflect the order of importance for administrators. We renamed "Getting Started" to "Help" to more accurately reflect where that link takes you (which is to the knowledge base) and it is now moved to the bottom of the navigation.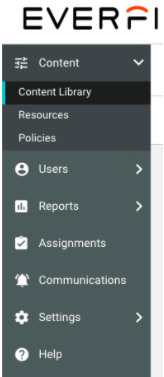 Retraining with SCORM Dispatch Integration
We have a new feature and process for customers using SCORM to retrain learners on the same content automatically without requesting new content packages each time. Essentially, there will be training cycles for courses depending on your learner audience and industry. Please review the SCORM Integration article for more information, best practices, and suggestions.
Certificate Available on Content Library
This week's release added a visible "Certificate Available" indicator to the face of the content tile in the administrator dashboard.
Email Activity Report
To reduce confusion and make it easier to distill the data, we split the two tabs in this Report into two separate reports:
Email Activity: Sent

Email Activity: Unsubscribed
See the improved Email Activity Reports article.
Bulk Data Downloads Rename
This report is now renamed "Data Exports" where administrators can access the raw data from the survey responses of courses they implemented. This feature is not turned on automatically for all customers, it must be requested to Customer Support or the Implementation Team to be added.
Email Activity Report Updates
With all the incredible and helpful automated messages being sent from Foundry, we understand that administrators may want some visibility into that activity. We now have upgraded the email activity report to provide not just the traffic totals but a detailed log of all activity.
This report includes:
All emails sent: invitations, reminders, reports ready, password resets
When exactly messages were sent and when they were clicked on by users
A list of users who are not receiving emails and why (bounced, unsubscribed, suppression lists)
Take a look at more details in this Email Activity Report article.
Time Spent in Course
In the Progress Training Report, we now added a column for Time Spent in Course for administrators to track. This column displays the amount of time a learner has spent taking a single course or content group (also referred to as "seat time"). Foundry tracks the total elapsed time that a learner spends in a course, starting when they first launch the course and ending when they complete the course.
Time in Course is useful for:
General training management to help admins flag cases where learners are not spending sufficient time in training

Compliance to show that a learner met the time requirement for mandated training, especially in cases of audit or litigation

Note: This is a different feature than the seat timer function in the course Preventing Harassment & Discrimination.

Compensation for training to assist in determining pay for hourly employees in training




(Note: Though seat time data can serve as a helpful data point for these use cases, it is not intended to be the single source of truth for compliance or employee timekeeping)
The timer does not pause if the browser tab/window loses focus. While the learner is in progress in a course, the timer will pause when:
the learner logs out

the learner closes the session even without logging out

the session times out after 20 minutes of inactivity
If the learner is still in progress, the timer will start counting again when the learner reopens the course. Seat time for each session is added to the cumulative seat time, until the learner completes the course. 

Easy to Find Foundry Login URL
On the User Profile, the organization's unique Foundry login URL is added next to the user email address making this information more easily accessible for administrators. This is particularly helpful in the cases when they need to send the link one-off to learners.
Assign Content from Library
In ongoing improvements to the Content Library, the learning activity card now has a direct access link to create an assignment. When administrators click "Assign," they will be taken to the assignment creation menu with this learning activity pre-populated.
SSO Set Up Workflow Improvements
For organizations using single sign-on, adding an Identity Provider is required to set up the integration successfully and to add SSO IDs for users. With this release, administrators can now add SSO IDs to users before adding an Identity Provider. An Identity Provider is still required for the integration to work, but now the order of operations is more flexible.
Returning Training Progress Filters
In the Training Progress Report, filter options by Assignment Name, Custom Category, and Custom Label are now available again in the Training Progress Report. This update will be reflected on 5/21/20.
Email Bounce Filter
When a user has an invalid email, Foundry currently adds a flag in the User Profile for administrators to correct it. While this information is helpful, it is not scalable or easy to gather this data at a macro level for all learners. That is…until now!
There is now a filter on the Manage Users page called "Email Issues" that allows admins to filter for this flag. It lives below Quick Lists and above User Status.
Content Library 2.0
To create more consistency across the Foundry experience, the Content Library now displays each learning activity as a card or tile similar to the Learner Dashboard. The goal is to create a central place in Foundry for administrators to see all the content available to them and to easily find the information and functionality they need for a successful, streamlined implementation.
First off, there are some updates to the left navigation. "Configurations" and "Surveys"  are removed and now in the Content Library nested under the appropriate learning activity. Policies and Resources will remain in the left navigation as separate assets and can also still be accessed in the Content Library.
Once a user clicks into a course tile, the landing page has a cleaner, more organized format.
| | |
| --- | --- |
| Section | Information |
| Header | Course image, course description, content details (duration and languages available), access to Assignments and Configurations. |
| About | Tab removed since it contains the same information as the course description. |
| Summary | Replaces "About" for Content Groups that contain multiple items. This section is where users can see what those associated items are, preview them, and access the configurations. |
| Assignments | All assignments containing that learning activity. |
| Learners | All users who have been assigned that learning activity. |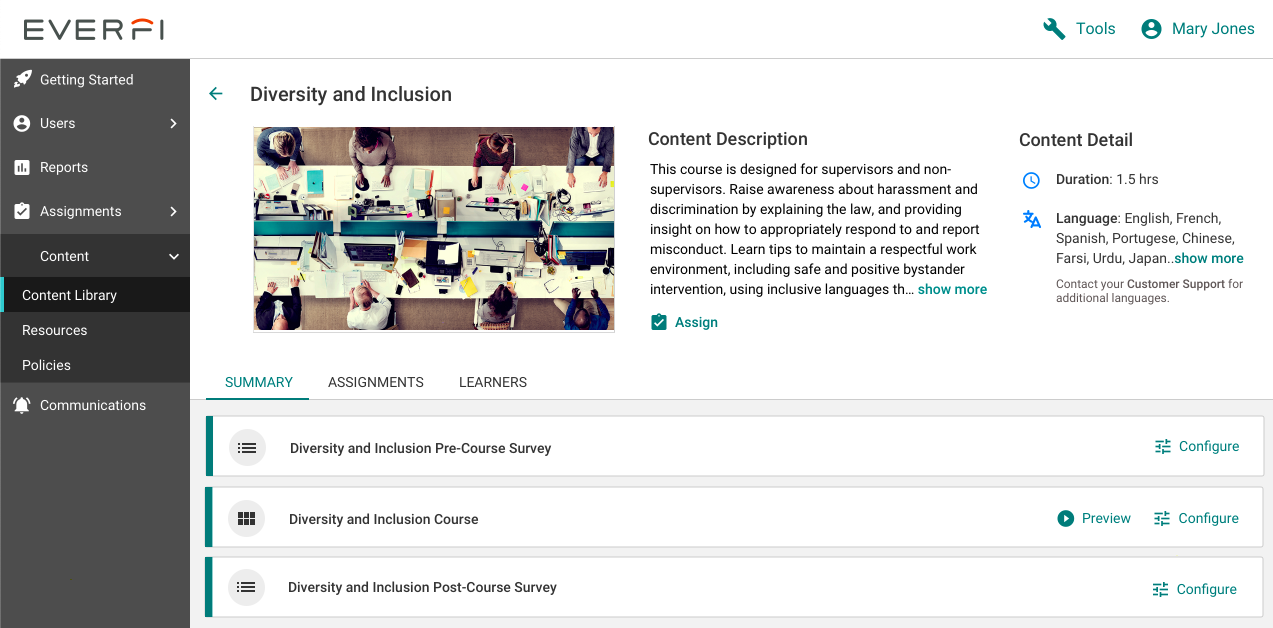 Survey Response Counts
In the Survey Results Report and Workplace Insights Report, the top section of the report will now display the number of participants for that evaluation (# of participants). This number previously reflected the number of responses for each question (# of responses X # of participants). This change more accurately reflects overall participation.

New Assignment Logic Updates
We are in the last stages of fully releasing Training Periods and this new assignment retraining logic to our customers on Foundry. During internal testing, we improved a few areas that are being released this week. Administrators cannot remove Training Periods that are associated with an assignment in any state.
When admins create a duplicate assignment for learners who already have a course (within the same Training Period), we cleaned up how that information is flagged in the Assignment details learner list. Instead of listing out all the other assignments the duplicate course is associated with, there is just an informational icon in the Participation column next to "Assigned."
Raw Data Downloads for Surveys
Note: This feature is an additional capability that is not yet turned on for all customers. If you do not have this in your account, but would like it, please reach out to your Account Manager.
To create feature parity from Homeroom (the Higher Ed Partner Center), Foundry now has the ability for administrators to access their raw data for surveys. This is a huge step for Foundry becoming more self-serve and allowing administrators to get the information they want more directly.
The Reports button in the left-hand navigation will now be a drop-down menu with two options: Dashboards and Downloads. Dashboards will take admins to the current "Reports" page with the various tiled options.
Downloads will bring admins to a menu where they can build the report they need for a specific course evaluation where available.  To generate a new report, admins will need to create a name for the file, select the Training Period, Course, and Evaluation, and refine the scope of the dates. Once a report is created, it will remain on this dashboard to reference later or even clone reports with minor adjustments.
As in Homeroom, there is a Data Terms of Use validation that appears ensuring the report contains no PII and that admins understand their role in the security of this data.
Unassign Learners from Ended Assignments
Learners can be unassigned from assignments with the following statuses: Scheduled, Started, and Closed. The only status in which admins cannot unassign learners is Archived which is when the assignment card moves to the "Deactivated" tab.
This Assignment Status Guide provides more detail and clarity on what an admin can do with assignments in each of the states.
Remove Global Unsubscribe
For Foundry communications, we are removing the option to unsubscribe from all EVERFI emails. Learners can still unsubscribe from one of the suppression lists as mentioned in the last release newsletter (see below).
Most of the time, learners who clicked the global unsubscribe did not know what they were unsubscribing from since they do not typically receive our other EVERFI communications. This will reduce confusion and clean up the look of our automatic communications.
Simplified Retraining
With a large number of customers on Foundry beginning to plan their second year of implementation on that platform, one of the biggest concerns we heard was about the assignment creation process particularly around annual training. This will essentially remove the functionality of "Prevent Duplicate Assignments" and reduce confusion for admins and learners.
There is a lot to update on for this new feature, but you can refer to the Assignment Logic article for the specifics.
Training Period
The training period will now essentially be a tag that administrators can use to attach to certain assignments. These are not necessarily tied to calendar dates. Admins will have the capability to create as many training periods as needed and edit the names and descriptions.
No Duplicate Courses for Learners
Sometimes learners may get assigned the same course by different administrators due to overlap in training plans and requirements. If assigned in the same Training Period, instead of the learner seeing two separate assignment cards on the Learner Dashboard, the learner will now see the course just once.
Each administrator who assigned that same course will see the progress for that learner appear in both of the assignment cards and associated reports. In the assignment card, admins can see what those overlapping assignments are.
See the Assignment Logic article for more details on completion tracking and reminders.
Assignment Status Clarification
Currently on Foundry, there are 4 assignment statuses: Scheduled, Started, Ended, and Closed. There was inconsistency and confusion around what each of these meant for the admin and for the learner experience. These changes apply to Quick and Automated Assignments.
As part of the larger initiative to simplify the assignment creation process, we are adjusting these statuses to:
Scheduled – Assignment Start Date is in the future
Started – Assignment Start Date is in the past, invitations have gone out
Closed – Quick Assignment Due Date and Auto Assignment Automation End Date are in the past. No new learners can be added to the assignment, but current learners can continue to make progress.
Archived – Assignment moves to the "Deactivated" tab. Learners will no longer be able to make progress in courses associated with that assignment.
For more detailed information on admin permissions in each of these states and what the learner experience is, take a look at the Assignment Status Guide.
Learners with Closed Assignments Are Listed Under "Assigned"
A user's assignment status gets marked "Closed" only when a learner is deactivated when they leave or when the entire assignment is deactivated (everyone moves to the "Closed" status). Currently, this "Closed" status falls under the "Not Assigned" tab in the assignment card which is counterintuitive because technically those learners were assigned the course.
We are now moving learners with this "Closed" Participation Status under the "Assigned" tab. This aligns better with how admins think about their learners and assignments.
The "Not Assigned" tab will only include learners who were unassigned the course or have an error (which is due to Foundry and the system will automatically retry assigning the course).
Training Progress Reports Redesign
We heard a lot of feedback regarding the overwhelming filter options in the Foundry Training Progress Report and for administrators looking for data that wasn't there. With this release, we simplified this report to align more with what admins are looking for.
The filters are still along the left navigation but are now slimmed down to those used most. This includes:
Course

Progress Status

Training Period

Learner Location

Learner Role

Participation Status
Instead of a progress status breakdown and calling out past due learners, the top section of this report now has a list of assigned courses, the completion rate, and total number of learners assigned. This snapshot is much more useful for admins to quickly see the data they need. Clicking the Course in this section triggers the Learner List to only display users assigned to that course.
Lastly, in the Download of this report, the "Invited On" date is now a column in the .CSV which is the day the learner was assigned the course.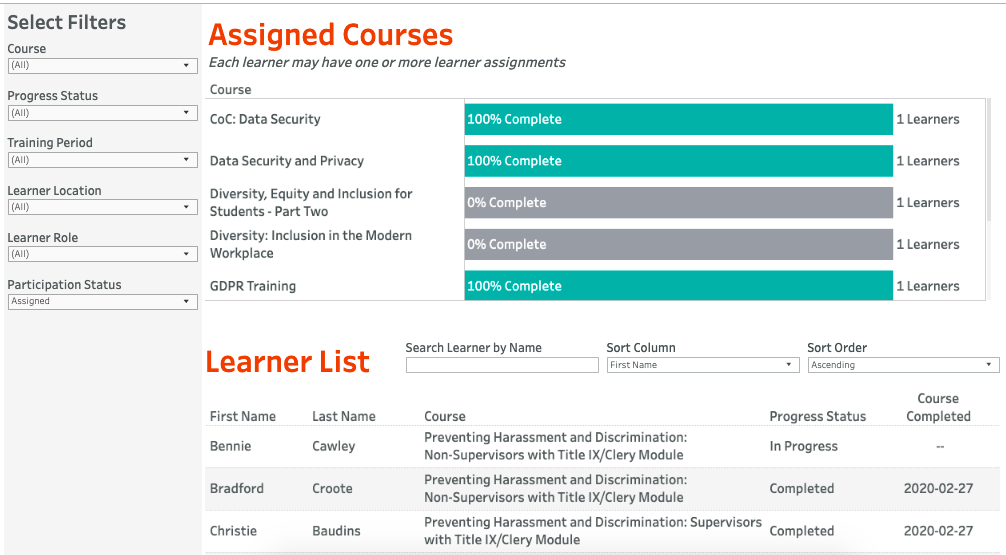 Content Library Addition: Learner Lists
As promised, we are adding more useful information to the Content Library section of the admin dashboard. With this week's release, admins can now see a "Learner" tab which will be to the right of "Assignments."
This new section will display learners who have been assigned that particular learning activity and will have filtering options, such as participation status, progress status, assignment name, and training period. This data is pulling from the same source as the Training Progress Report and will be updated at the same frequency (once per day).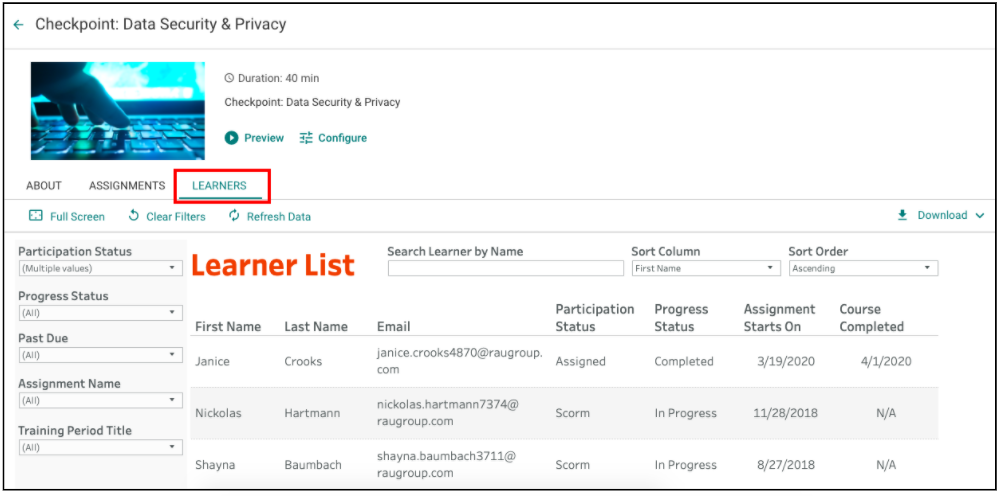 Learner Experience Accessibility Improvements
During an accessibility review, there were a few issues highlighted and fixed to improve the learner experience using a screen reader.
Keyboard navigation in the "Tools" menu

Alternate text is added to the images on the Learner Dashboard

"Skip to Main Content" works properly
Check For Assignments
In some cases, due to the Foundry queueing system to send out assignment invitations, users may get to their Learner Dashboard and not see an assignment they were expecting. To resolve this delay that could result in stress, impending mandates, and learner confusion, there is now a "Check for Assignments" button on the Learner Dashboard.
Regardless of current assignment cards, this Check Assignments button will always be available on the "Open" tab of the dashboard. Clicking this button will trigger the system to search for any assignment for that user in the queue and essentially bring them to the top and load to the Learner Dashboard.
This is particularly useful for large organizations with thousands of learners and for organizations that use SSO to Register new users.
Contained Unsubscribe From Foundry Emails
In the invitations and reminders that get sent from Foundry, there is an unsubscribe link in the footer which is required by law to include. This created several issues for administrators who were unable to get new assignment invitations to users who previously unsubscribed from Foundry emails. To prevent this from happening, we now separated out the email type and the line of business.
If a learner clicks unsubscribe on a Foundry reminder email, they will no longer receive reminder emails but they will be able to receive an invitation email for a future assignment.
Additionally, if a learner who receives assignments for both fac/staff and student training clicks unsubscribe to a fac/staff reminder email, then they will still receive reminder emails for the student training.
Policy Signature Reporting Alignment
We made some changes to how we store our policy signatures to improve the accuracy of reporting between the Data Platform and Foundry as well as ensuring we are displaying the appropriate information for learners.
To learners and customer admins, there should be no apparent changes. Now with this update, Foundry marks a course complete once all the learning content is viewed and all required policies are signed.
Benchmark Surveys
In the "Survey Results" Report, admins can see the aggregated results from pre, post, and follow-up surveys that are deployed with assigned learning. This report can be used to search and browse through survey results and see response counts for each question. We recently brought over the functionality to benchmark an organization's data against peers and the overall EVERFI customer average.
Log into the Foundry Admin Dashboard and go to Reports

Click "Survey Results"

The top section of the report lists all the courses the organization launched with the associated surveys (or Evaluations)

Click on the Evaluation or use the dropdown menu to look at a specific survey

The bottom section of the report will reflect the data for your filter selections

Click the "Benchmark" filter to select the group to compare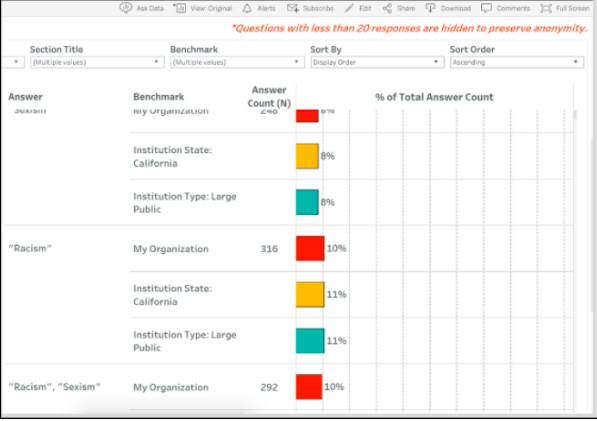 New User Status: Error
To avoid confusion of a learner's status, we added a new status called "Error" to draw a clear distinction from "Excluded." This new status is found on the Assignment card on the "Not Assigned" tab.
A learner will be flagged as "Error" when an assignment does not go through due to a platform issue. In this case, Foundry will regularly retry those learners to correct the issue and send the assignment. There is helper text included to inform the admin.
"Excluded" learners are those who were not assigned due to the assignment settings.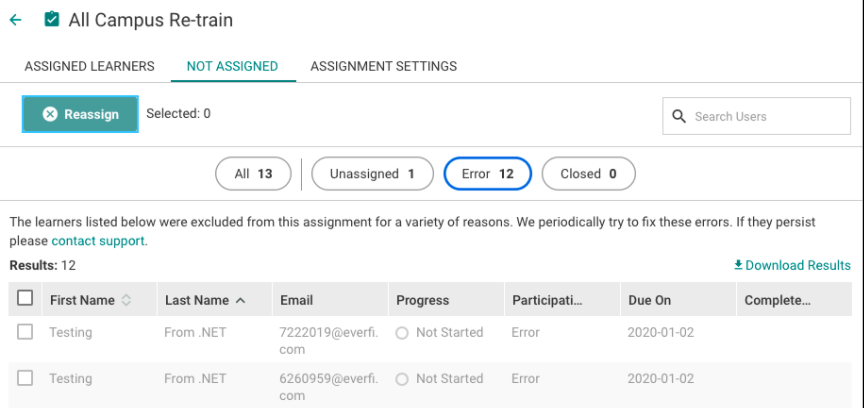 Unused User Profile Fields Removed
When Foundry admins add new users to accounts via manual entry, CSV bulk upload, or API integration, there are certain default fields that are required. Some of these fields are not related to any other area of Foundry (reporting, filters, assignments) and do not impact the learner or admin experiences.
In an effort to clean up this process and only keep necessary data, we are removing 3 of these fields from User Profiles and the CSV upload template:
First day of work

Last day of work

Position
For organizations currently using API, we recommend not changing anything with the integration. Moving forward, those fields are not required to create a user, but the information will appear if they have data in them.
As an alternative, we strongly suggest using the Custom Categories and Labels feature in Foundry which provide more flexibility and do get used in reports, filters, and creating assignments. Please reach out to your Account Manager if you have any questions.
Renamed Survey Reports
| | | | |
| --- | --- | --- | --- |
| Old Name | Old Description | New Name | New Description |
| Survey Data | Analysis of survey response data from enabled course surveys | Survey Results by Question | View and download visuals of results to individual questions |
| Survey Data (Searchable) | Analysis of survey response data from the enabled course surveys | Survey Results | Search and browse aggregate survey results and benchmark against organizations like yours |
---