---
Why are There 2 Parts?
When making course assignments, you may notice that many EVERFI courses have two parts. This is mostly for our Higher Education student courses, but there are some employee courses that have this feature as well.
This two part system (seen below) allows us to collect valuable data and information on our learners attitudes and behaviors over time. We can then analyze the responses before and after the course to see what changes have occurred.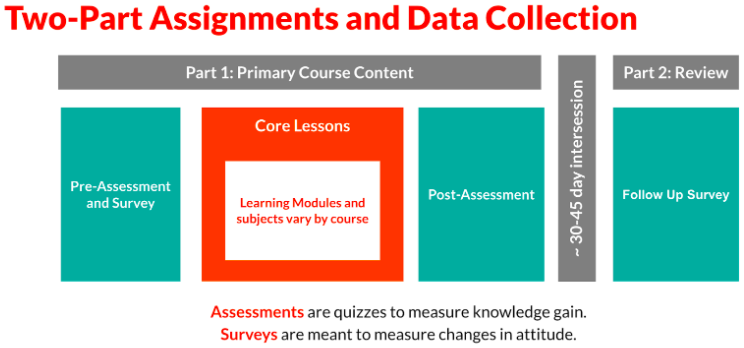 As administrators, it is important to ensure learners are assigned both parts in order to ensure that we are able to successfully measure and view the impact of this course and highlight key areas that can inform ongoing training strategy and resource allocation.
Please keep in mind that Part 2 assignments are designed to be completed in a short amount of time, so they only contain follow up surveys and not any additional learning content.
How Should I Use Them?
As you can see above, we typically recommend a 30-45 day intersession between when learners complete Part 1 and when they complete Part 2. We recommend this because it allows learners to put into practice what they have learned "in the wild" and hopefully draw some personal conclusions and opinions from those experiences. Once they have had a chance to put this knowledge into practice, then they are re-surveyed and the changes can be measured.
You will be able to access these survey insights in real time in the Reports section of the platform where you will be able to view and download the results. Keep in mind that these reports will populate after you have at least 20 learner responses for anonymity purposes. This survey data will also be found in your yearly impact report that your Account Manager will provide to you organization.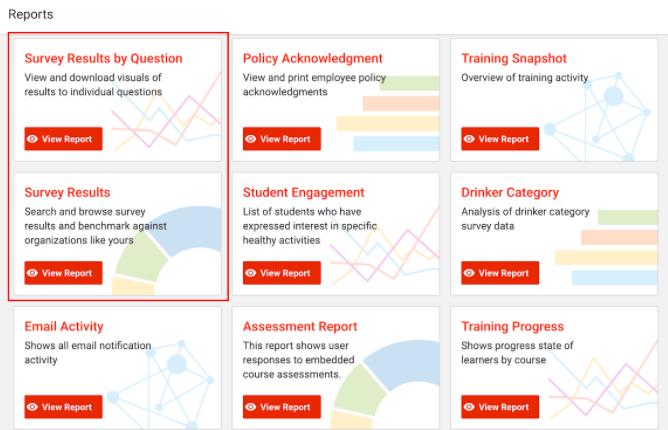 If you would like to see the survey questions for a particular course that you are planning to launch, your Account Manager will be happy to provide you with a list of the questions for you to review.
However you choose to send them out, Part 2 follow up surveys are a great way to gain valuable insights into your learner population, so you can use those insights to better inform your future prevention and policy initiatives!  
---
Create a Part 2 Automated Assignment
Within Foundry, there are a couple of ways to send out Part 2 assignments to our learners. The most common and recommended way is via an Automated Assignment. Foundry will automatically assign learners Part 2 after they completed Part 1 and a specified intersession period.
Alternatively, you can set up a Quick Assignment to manually send out Part 2 assignments to all learners at the same time. Again, we strongly recommend only sending Part 2 to learners who completed Part 1.
Note: The following instructions are how to set up an Automated Assignment for Part 2 of a single course. For example, if there is an assignment with Part 1 of Sexual Assault Prevention for Undergraduates and AlcoholEdu for College, then follow the steps below with 1 learning activity if you want the intersession to be 30-45 days for each course.
If you want learners to be assigned both Part 2 courses once both Part 1 courses are complete, then you can add both Part 2 learning activities for this automated assignment.
Go to Assignments > Create an Assignment
Click "Create an Automated Assignment" and confirm
Complete the form (fields not listed can be filled in to the administrator's discretion)

Assignment Name

Indicate this is a Part 2 assignment only

Learning Activities

Select the Part 2 of the associated content of Part 1 that was assigned
For example, if you already created an assignment for Part 1 of AlcoholEdu for College: Primary, then select AlcoholEdu for College: Primary Part 2 for this assignment

Selection Criteria

Expand the filter "Must have already completed all of…"
Select "Intersession of [X] days" and enter your desired intersession

The intersession is the number of days between when a learner completes Part 1 and when Part 2 is assigned. We recommend 30-45.

Check the box for the Part 1 learning activity associated with this assignment.

For example, if this assignment is for AlcoholEdu for College: Primary Part 2, then select AlcoholEdu for College: Primary for this field.

Click Save

Automation Begins Date

This can be as soon as today, but no later than the number of days of the intersession after the Part 1 assignment starts.

For example, if Part 1 assignment starts July 1 and the intersession for Part 2 is 45 days, the Part 2 assignment can start anytime between July 1 and August 14.

Automation Stops Date

Consider when is it too late for learners to continue to receive Part 2. Typically this is at the end of the semester or academic year.

Due Duration

How long a learner has to complete Part 2 after it is assigned.
We recommend 15 days as this is purely a follow-up survey with no additional learning content.
---
Higher Ed Partner Center
On this platform, the Part 2 follow-up survey is automatically sent to learners based on when they complete Part 1. This is not something the administrator needs to set up. The only thing administrators will need to communicate is the intersession length which can be shared with Customer Support to set up.
---
Courses on this platform do not have a follow-up survey component.
---